I live in a rather smallish part of the Tampa Bay Area.Not that this is a bad thing. I mean I came from the Area of Inverness, Florida and my wife came from Compass Lake, Florida. Both towns smaller and farther from a big town then our current little beach town. Could be worse…like my sister and Mom in Cody, Wyoming.
With that said, dinner is usually the thing we talk about a lot. Either that or Lunch, and where the co-workers and we will all go. So our small beach town only has a few restaurants, and then those are either packed or have a minimal online presence.
So when we all want a restaurant that is different, we drive into the larger Tampa Bay Metro Area..and hit wait times. Until we were at Bob Evans the other night (don't judge).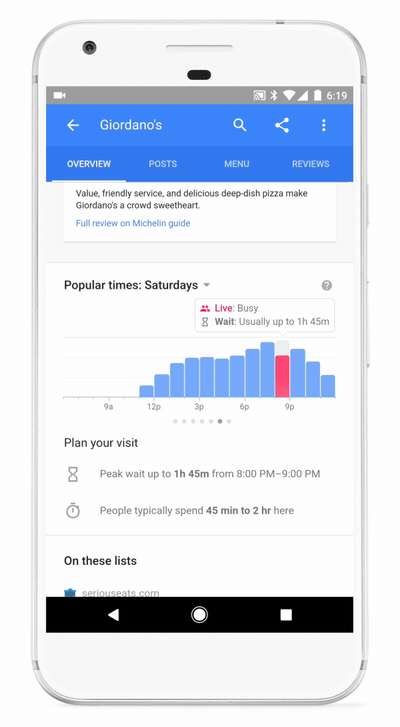 I noticed on my Pixel 2 XL a notification on if I was at Bob Evans. Of course I said yes, then the coolest thing happened. The Google Search App opened up and asked me how busy it was.
The dinner rush had just ended, so I said slightly busy. I saw an image like the one above. It showed me what the wait time would be like and the peak time to go to Bob Evans.
Google is releasing wait times on Google Search and it is coming soon to Maps! Now this might not mean something to you, but it has a huge implication. Imagine wanting to have some good food and good times with loved ones or friends. Soon you'll just check your phone and see if you need to make an OpenTable request (if your restaurant has it or is available) or if you can just walk up!
Another awesome update coming and I can't wait to see it totally!
Google On!